ABOUT US
Woehler Landscape Supply is the leader in providing landscaping materials and services to the Pittsburgh and Washington county areas. We specialize in bulk landscape materials such as screened topsoil, mushroom manure, compost, natural and dried mulches, natural stones, decorative stone, gravel, sand and firewood. We also are a dealer for Ohio stone with many products they offer and the ability to special order their product. We also offer winter supplies such as bulk rock salt, bags of rock salt and ice melt.
We are also Peters Township's only transfer station. We accept all C&D waste material, all roofing debris and waste, all dry lumber and anything metal as well. dumping occurs on a flat concrete covered pad.
We also recycle concrete and asphalt.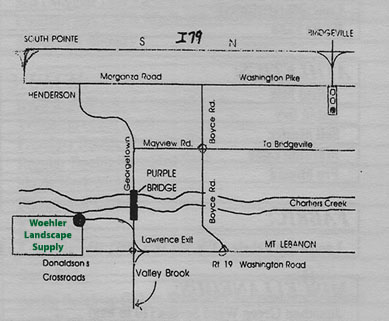 WOEHLER LANDSCAPING, LLC
Contact Us for all your landscaping needs.
Woehler Landscaping, LLC provides a wide range of services to both commercial and residential customers.
Woehler Landscaping LLC.
WOEHLER GARDEN CENTER
We have a variety of Annuals, Perennials, Hanging Baskets, trees, shrubs, exotic conifers and evergreens.
We also have a wide selection of bagged materials, fertilizers, and seasonal garden items.
Woehler Garden Center